Calais Port 2015 has set itself the obligation to limit and mitigate
the environmental impacts of its construction activities on the site.
To meet this ambition, an Environmental Management System
has been set up by the Design and Construction Joint Venture with resources:
a QSE Manager, an Environmental Manager, environmental consultants, local associations,
specialists (ornithologists, marine mammalogists, ecologists)
and with objectives of labelling (Ecosite Label) and certification (ISO 14 001 and ISO 50 001).
As Bouygues Travaux Publics, representative of the Design and Construction Joint Venture, is ISO 14 001 and ISO 50 001 certified, Calais Port 2015 construction site has a duty to respect these standards.
In parallel, the Ecosite label, part of the Label Chantier Bleu, makes it possible to evaluate the environmental performance, i.e. that a minimum score not achieved or a regulatory requirement not respected leads to the non-obtainment of this label.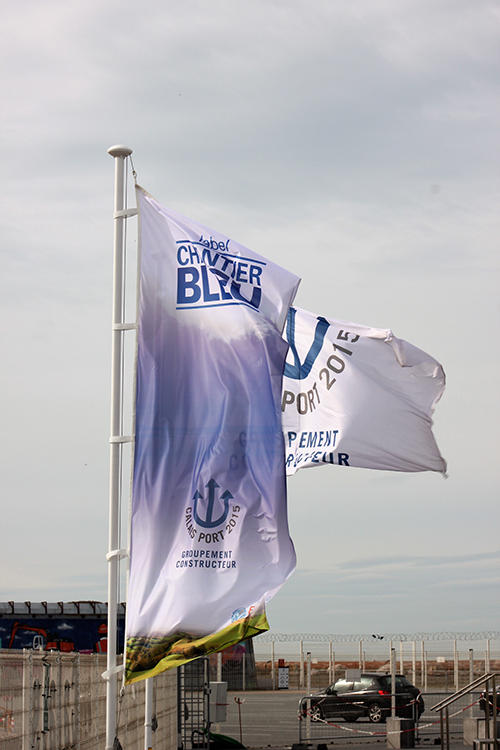 The"Ecosite" label is based on the following 11 themes:
Environmental analysis of the project
Waste management
Management of hazardous products
Noise
Air
Aquatic environments
Biodiversity
Consumption
Cleanliness and storage
Communication
Emergency situations
This label is to be renewed in 2018:
Various actions are implemented to respect the issues:
Environment and energy management system in compliance with standards
Ornithological monitoring
Acoustic monitoring of harbour porpoises
Pedestrian and aerial monitoring of pinnipeds
Sorting by type of waste
Choice of local waste treatment service providers
Implementation of water treatment systems for the concrete plant and domestic water
Presence of an anti-pollution kit in all vehicles
Installation of an environmental communication panel
…