In 2003, the Calais Chamber of Commerce and Industry (CCI) as the concessionaire of the port finalized the reorganization of administrative and operational port functions already started in 2001. The CCI also planned the short and medium term port investments to adapt both to freight growth and the implementation of security measures imposed by the Treaty of Le Touquet.
Also in 2003, the Port Concession initiated with the French State as owner, the foundations for a strategic development project. The French State took over hinterland studies and the CCI as concessionaire studies related to the port.
In 2004, the Calais Chamber of Commerce retained the BCEOM organization (now Egis) to work with on what will become the Calais Port 2015 project. The idea of a new basin had already been initiated by the concessionaire, but its functional and economic justification on one side and its technical and environmental feasibility on the other side still remained to be demonstrated. After reviewing numerous configurations, a new basin located near the current port Northern platforms appeared then as the most relevant.
In 2007, the Regional Council of Nord-Pas de Calais became the owner of Calais and Boulogne sur Mer ports.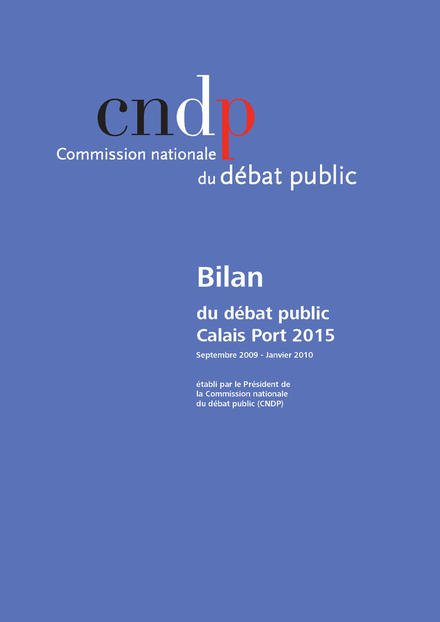 Attracted by such an ambitious project and also convinced of its absolute necessity for the country over the long term, the Regional Council went on with Calais Port 2015 by initiating the necessary procedure for processing a large infrastructure project. A public debate was held in 2009 which confirmed the project was relevant in terms of logistics and its support was expressed by all involded. In 2011 the Public Inquiry agreed on the socio-economic and environmental aspects and allowed the Region to launch in February 2012 a tender for a Public Service Delegation for the ports of Boulogne sur Mer and Calais.
The CCI as the historical concessionaire combined both skills to port investment capabilities and experience of major projects with Meridiam Infrastructure and CDC Infrastructure. The Port of Dunkirk (GPMD, Grand Port Maritime de Dunkerque) joined the group who retained a consortium made with Bouygues, Spie batignolles and Jan De Nul groups for the final design and construction of Calais Port 2015. The Regional Council General Assembly retained its final offer and the Concession Agreement was signed on 19th February, 2015.
Calais Port 2015 has been prepared for 12 years, its first preliminary work started in 2015, starting point of a new 5 year period made of technical and human challenges.